New Delightful Ways to Celebrate Haunted Mansion Film
The Latest News from Disney Destinations...
Welcome, Foolish Mortals… to the release of the new Haunted Mansion film, now playing only in theaters!
Inspired by the classic theme park attraction, "Haunted Mansion" is about a woman and her son who enlist a motley crew of so-called spiritual experts to help rid their home of supernatural squatters. Keep your eyes peeled for many easter eggs and nods to the Haunted Mansion attractions that made it into this film!
There's no better place to celebrate the release of this film than at Disney Theme Parks, and Disney is materializing frightfully fun ways to experience Haunted Mansion for a limited time.
Hatbox Ghost Coming to Walt Disney World Resort
Later this year at the Walt Disney World Resort, one of the most iconic specters will set up residence in the Haunted Mansion of Liberty Square in Magic Kingdom Park. The Hatbox Ghost will appear to guests as they pass the Endless Hallway, welcoming himself inside from the swinging wake in the cemetery and grinning at the Doom Buggies as they set off deeper into the mansion. Guests will soon see temporary barriers materialize as we await his apparition.
Haunted Mansion Costume Display at Disneyland Resort
For a limited time, Guests visiting Disneyland Park can visit the Opera House inside The Disneyland Story presenting Great Moments with Mr. Lincoln to see a collection of concept art, props and costumes from the Haunted Mansion, including the ornate dress worn by Madame Leota (played by Jamie Lee Curtis) in the film.
And for guests visiting Walt Disney World Resort, stay tuned for a similar display of props and costumes coming to Walt Disney Presents Theater at Disney's Hollywood Studios park very soon!
Haunted Mansion Inspired Treats at Disney Parks
Disneyland Park
Look alive! Disney is cooking up concoctions inspired by Haunted Mansion that are sure to thrill your taste buds!
Haunted Mansion Inspired Pre-Fixe Menu available at Café Orleans featuring the Vanilla Mousse and Seafood Boil
April-December Churro at the New Orleans Square Churro Cart: Strawberry-flavored sugar with fresh strawberries, purple cherry sugar, freeze-dried strawberries, and donut icing drizzle
Constance Concoction at Harbour Galley: Potato and leek soup topped with pea flower crème fraiche, herb oil, and fried leeks served in a sourdough bread bowl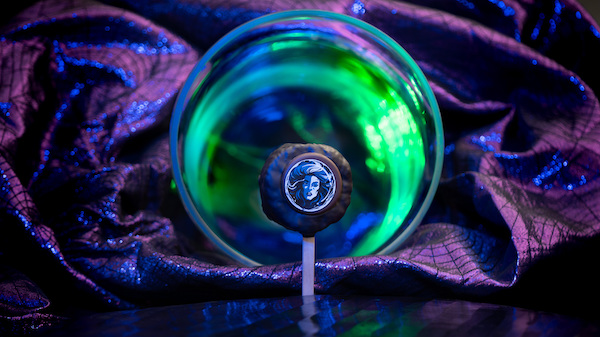 Madame Leota Cereal Treat at Candy Palace and Candy Kitchen: Crisped rice cereal treat dipped in dark chocolate and decorated with M&M'S® milk chocolate candies and Madame Leota chocolate piece #MoviesWithMars (also available at Walt Disney World Resort)
Pickwick Ghost Punch at Royal Street Veranda and Harbour Galley‌: A Combination of fruit, citrus juices, and sherbet (Non-alcoholic)
Hatbox Ghost Sipper at select locations in New Orleans Square and Critter Country
Walt Disney World Resort
Playful Spirits Margarita featuring Patron Silver Tequila with a Fess Parker Big Easy Red Floater and Mickey-shaped Caretakers Beignets dusted with Cookies and Cream Powdered Sugar and a ghoulish Marshmallow Crème drizzle. Both can be found inside Scat Cat's Club at Disney's Port Orleans Resort - French Quarter.
Peanut Butter and Jelly Push Pop at Sleepy Hollow inside Magic Kingdom Park.
Happy Haunts Shake at Columbia Harbor House inside Magic Kingdom Park: Blackberry shake topped with purple chocolate-glazed doughnut covered with black sprinkles.
Haunted Mansion Portrait Bars at The Ganachery inside Disney Springs: Chocolate Ganache Bars with edible image. Bar Flavors: pistachio, salted caramel, chipotle, passion fruit.
Watch Haunted Mansion, out in theaters now!
There's no turning back now! Check out Haunted Mansion now playing only in theaters and watch out for any hitchhiking ghosts that may follow you home!
It's the most wonderful time of the year at Disney Springs! The halls are decked, the fire is roaring, and you won't want to miss out on all the festive fun available now through December 30. Here are six ways to enjoy the most merry way this holiday season. First up is the Disney Springs … Read more
Read More
Crazy Imagination Travel Advisors are experts at the art of vacationing Disney and beyond. No two families are alike and no two vacations are alike. Each vacation is carefully planned and customized to our guest. From the Walt Disney World Resort in Florida to world-wide adventures in Australia, our Travel Advisors are ready to help guests plan their dream vacation. Go ahead. Put our service to the test!