Barbecue and Toy-Sized Fun Coming to Toy Story Land Spring 2023!
Andy's backyard is getting ready for more toys! Roundup Rodeo BBQ will open in Spring 2023 to welcome guests for delicious barbecue and toy-sized fun. We're excited to share more details about the world's first "Toy Story" table service restaurant, coming to Toy Story Land in Disney's Hollywood Studios. Here's a closer look at Roundup Rodeo BBQ, and how Imagineers collaborated with Disney Pixar Animation Studios and Walt Disney World Food & Beverage to design this one-of-a-kind dining experience.
Using his imagination, Woody's Roundup toys, and other playthings, Andy has built a rodeo restaurant for all his pals. We are excited for guests to enter the dining room and discover just how much fun Andy had creating a rollicking place for honorary toys to enjoy barbecue-inspired comfort foods served family-style, with platters of house-smoked meats, a roundup of sides and some miniature sweet surprises along the way.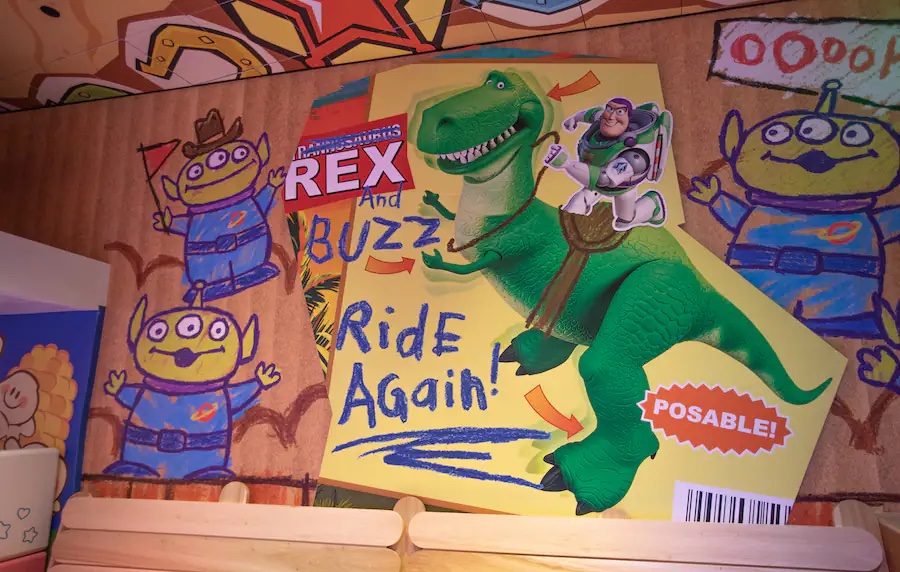 In this wild, western setting, guests can find a steam train supported by colored pencils, a suspiciously impressive house of cards, and game boards featuring beloved characters from the "Toy Story" films. To fill the stands of his rodeo arena, Andy has decorated the cardboard box with hand-drawn audience members! The dining room also features the rodeo's star performers: Jessie, Trixie, and Bo Peep with her leapin' sheep Billy, Goat, and Gruff!
What we are really excited about with bringing these toys, games, and sets to the park is the collaboration with our pals at Disney Pixar Animation Studios to design figures unique to this restaurant and artwork that can only be found at Disney's Hollywood Studios. Imagineers worked closely with animators and designers at the renowned animation studio to bring characters and art from the films to life in new ways unique to Disney's Hollywood Studios. They even designed full comic strips about Woody's adventures, which Andy has used as part of the dining room ceiling!
Stay tuned for more rodeo fun as we work towards our Spring 2023 opening!
It's the most wonderful time of the year at Disney Springs! The halls are decked, the fire is roaring, and you won't want to miss out on all the festive fun available now through December 30. Here are six ways to enjoy the most merry way this holiday season. First up is the Disney Springs … Read more
Read More
Crazy Imagination Travel Advisors are experts at the art of vacationing Disney and beyond. No two families are alike and no two vacations are alike. Each vacation is carefully planned and customized to our guest. From the Walt Disney World Resort in Florida to world-wide adventures in Australia, our Travel Advisors are ready to help guests plan their dream vacation. Go ahead. Put our service to the test!