PHOTOsynthesize With These EPCOT Flower & Garden Festival Magic Shots
We are ready for yet another fantastic year of the EPCOT International Flower & Garden Festival. We are most excited for the Magic Shots that will be available from Disney PhotoPass Service (and the Outdoor Kitchens, of course). Seriously, we can't get over these amazing shots!
Like Heimlich said in Disney and Pixar's film, "A Bug's Life," "Someday, I will be a beautiful butterfly and then everything will be better." And well, everything does seem better when posing for this Magic Shot underneath a flurry of butterflies. Fly down to the entrance to World Showcase under the Monorail beam to capture this festival favorite!
Who wouldn't want to visit Pixie Hollow and hang with Tink and her fairy friend? Now, with this Magic Shot and a little pixie dust, guests might find their way to Pixie Hollow! Just think of the happiest things and fly over to most PhotoPass photographers to uncover this flitterific Magic Shot.
Speaking of flying…when in Magic Kingdom Park, Orange Bird hangs out at Sunshine Tree Terrace and serves up some Dole Whips. But for the festival this year, he's flying into the frame! guests can visit most Disney PhotoPass photographers stationed in World Celebration locations to capture this Magic Shot. And then maybe go and get a Dole Whip, because…why not?!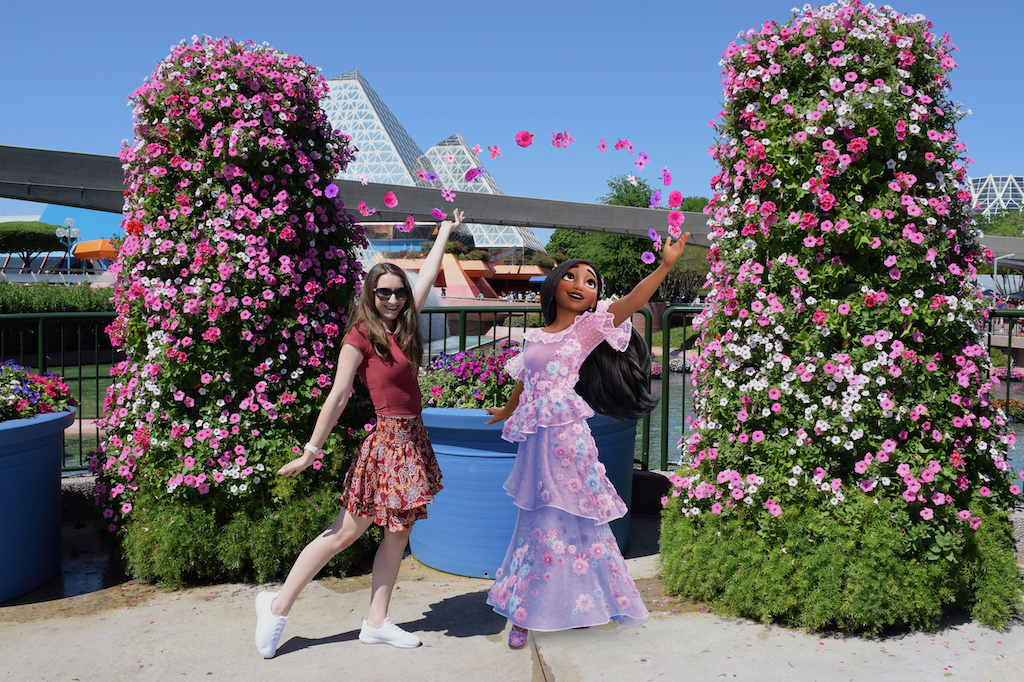 After a Dole Whip, guests can go find this fantastic floral photo at the water near Journey Into Imagination With Figment. You know how Isabela grows a flower and the town goes wild? Well, we're going wild over this Magic Shot. Visions of purple, pink, and peonies will fill guests' heads long after their visit.
Those visions of flowers are filling Spike the Bee's thoughts too, so watch out Donald Duck! Spike the Bee is the star of the show in this Magic Shot. When he's not busy pollinating or tormenting Donald Duck, he'll make sure to pop into guests' photos anywhere in the World Showcase.
After a day of gazing at flowers, guests might as well pose for a photo with them! Poppy in this floral frame stationed in the Italy pavilion, near the entrance to World Showcase under the Monorail beam, and by the water near Journey Into Imagination With Figment. Here, guests will be surrounded by flowers that will last a lifetime.
It is only fitting to wrap this up with our favorite shot of all: the Tiny World Magic Shot. Located near the fountain just beyond the main entrance of the park, guests can capture their entire family from the most magical angle. They get a fun festival border too!
We think Disney PhotoPass Service really rose to the occasion for the EPCOT International Flower & Garden Festival this year. guests can use the locations noted here as a guide for finding these Magic Shots, but we also recommend asking photographers what Magic Shots are available at their location. We truly hope guests enjoy their time photosynthesizing with Disney PhotoPass Service!
It's the most wonderful time of the year at Disney Springs! The halls are decked, the fire is roaring, and you won't want to miss out on all the festive fun available now through December 30. Here are six ways to enjoy the most merry way this holiday season. First up is the Disney Springs … Read more
Read More
Crazy Imagination Travel Advisors are experts at the art of vacationing Disney and beyond. No two families are alike and no two vacations are alike. Each vacation is carefully planned and customized to our guest. From the Walt Disney World Resort in Florida to world-wide adventures in Australia, our Travel Advisors are ready to help guests plan their dream vacation. Go ahead. Put our service to the test!