New Characters from Black Panther Coming to Disney Cruise Line's Marvel Day at Sea
The new Black Panther and Okoye, General of the Dora Milaje, from "Black Panther: Wakanda Forever" will make their Disney Cruise Line debut exclusively during Marvel Day at Sea beginning in January! The iconic Wakandan warriors will join the largest assembly of Super Heroes and Villains from the Marvel universe aboard the Disney Dream.
For the first time aboard one of our ships, guests will get a chance to meet the newest protector of Wakanda with an all-new Black Panther heroic encounter!
The Black Panther will also appear in "Heroes Unite", the event's signature nighttime spectacular featuring special effects, stunts and pyrotechnics.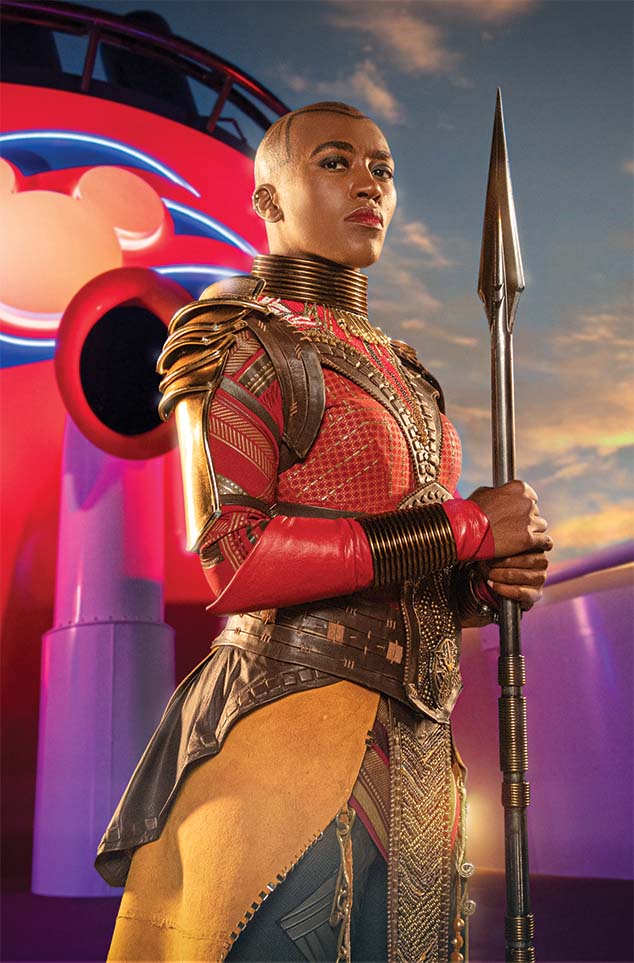 Guests ready to become a warrior ally of Wakanda will not want to miss the brand-new show featuring the fearsome general, Okoye. In the atrium, "Warriors of Wakanda" will have recruits train with the mighty Dora Milaje in an interactive experience for the whole family.
Marvel Day at Sea is one action-packed day aboard a five-night sailing on the Disney Dream  where guests can interact with all their favorite Super Heroes and Villains through all-day entertainment, including heroic encounters, stage shows, film and TV screenings, unique merchandise, themed food and beverage offerings, and activities for families, kids and adults.
Marvel Day at Sea will take place on nine Western Caribbean cruises sailing from Miami in early 2023.
Departing Jan. 7, Jan. 21, Feb. 4, Feb. 18 and March 4, 2023, the itinerary features Georgetown, Grand Cayman and Disney's private island in the Bahamas, Castaway Cay.
Departing Jan. 16, Jan. 30, Feb. 13 and Feb. 27, 2023, the itinerary includes stops at Cozumel, Mexico and Castaway Cay.
It's the most wonderful time of the year at Disney Springs! The halls are decked, the fire is roaring, and you won't want to miss out on all the festive fun available now through December 30. Here are six ways to enjoy the most merry way this holiday season. First up is the Disney Springs … Read more
Read More
Crazy Imagination Travel Advisors are experts at the art of vacationing Disney and beyond. No two families are alike and no two vacations are alike. Each vacation is carefully planned and customized to our guest. From the Walt Disney World Resort in Florida to world-wide adventures in Australia, our Travel Advisors are ready to help guests plan their dream vacation. Go ahead. Put our service to the test!