Haunted Mansion Expansion Coming to Disneyland Resort
Next year, the Haunted Mansion at Disneyland Resort is set to undergo a spirited metamorphosis. The stately grounds will see new additions that build on the mansion's intriguing story and lore. Guests will be able to enjoy an expanded outdoor queue that immerses them in enhanced theming, as well as a new retail shop adjacent to the attraction's exit.
The staff at the mansion has always been dedicated to maintaining the happy haunting grounds, which local legend suggests was first built by a prosperous sea captain. The new queue will incorporate these stories and more, with new gardens inspired by Master Gracey, Madame Leota, and the one-eyed cat.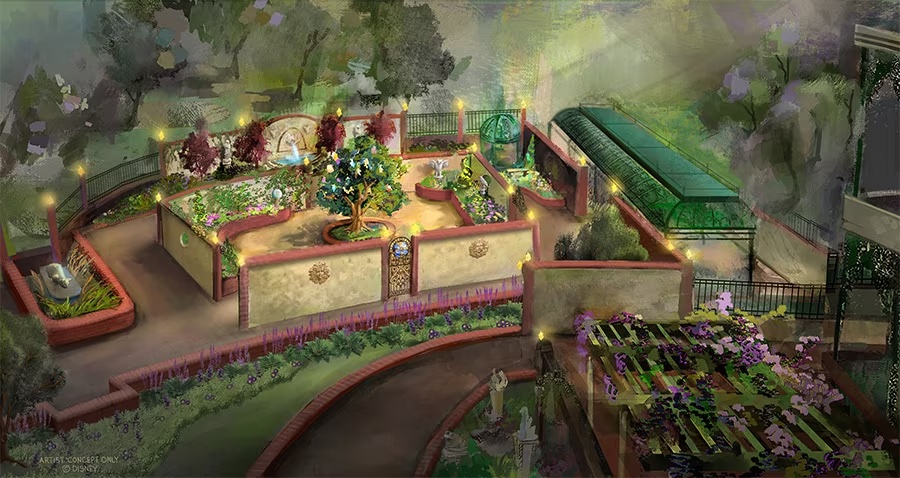 Visitors can expect to see a variety of distinctive features in each garden, such as a beautiful water fountain, a charming gazebo, and thoughtfully designed landscaping. Additionally, there will be a brand new greenhouse on display which showcases the impressive plant growth of the Haunted Mansion's groundskeepers. While exploring the area, guests will also come across the pet cemetery and the iconic horse-drawn funeral hearse that have become beloved staples of this attraction.
Madame Leota's presence will be extended beyond the Haunted Mansion by opening a new retail store. The standalone shop will be situated in the mansion's carriage house, which belongs to Leota. Further details about the store will be revealed in the near future.
Enhancements to the plaza adjacent to Tiana's Palace will be made, with construction beginning in January 2024. The area holds a significant amount of memories and history, and the addition of a new, elegant park-like setting will provide a relaxing place for guests to enjoy the ambiance and live entertainment. The area will feature new and historic trees providing shade. The accessibility of these areas will also be improved with a new elevator exit from the Haunted Mansion for guests with disabilities.
More information regarding the final arrangements will be shared early next year.
Disney Cruise Line has recently opened their new cruise terminal at Port Everglades in Fort Lauderdale, Florida. Here are five reasons why guests will love sailing with Disney Cruise Line from Fort Lauderdale. Second Year-Round Disney Cruise Homeport in Florida: Disney Cruise Line is expanding its fleet and opening its second year-round home port in … Read more
Read More
Crazy Imagination Travel Advisors are experts at the art of vacationing Disney and beyond. No two families are alike and no two vacations are alike. Each vacation is carefully planned and customized to our guest. From the Walt Disney World Resort in Florida to world-wide adventures in Australia, our Travel Advisors are ready to help guests plan their dream vacation. Go ahead. Put our service to the test!