Disney Eats: First Look at 'Shimmering' Disney Cruise Line 25th Anniversary Treats
This year marks the 25th anniversary of Disney Cruise Line and, to celebrate, the entire fleet will be welcoming aboard a variety of delicious eats and sips inspired by the shimmering seas. We are thrilled to share with everyone a first look at what tasty options they'll have to sea to believe.
As the "Silver Anniversary at Sea" draws near, the talented pastry chefs and mixologists have been hard at work creating items sure to make a splash, because what better way to celebrate than with flavor?
Let's jump in and take a peek at all of the shimmering sweets, sips, and novelties setting sail this summer from May through September!
First up, we're exploring the treats that will be available. The 25th Disney Cruise Line Cupcake features a decadent vanilla sponge cake topped with vanilla frosting, 25th chocolate décor, and, of course, shimmering sprinkles. It's not just beautiful but delicious too! This sweet selection will be available via amenities on the ship.
If guests love chocolate and candy, they're in luck because there's a special item specifically crafted for the sweet tooths out there at all the sweet shops on each of the ships – the Mickey Chocolate Sphere. This sweet treat showcases a chocolate Mickey Mouse sphere adorned with the 25th emblem and is filled – yes, filled – with a variety of candy pieces. Simply crack it open and treat yourself.
At both Cabana's and Marceline's Market locations, two of the desserts will be getting a Silver Anniversary at Sea upgrade. The 3 Layer Carrot Cake with lemon frosting will be adding 25th chocolate décor and the Disney Cruise Line Anniversary Chocolate Marquise will feature rich chocolate truffle crème topped with the 25th chocolate décor as well!
Fan of chocolate cookies? We 'shore' hope so! At the concierge lounge, the Chocolate Cream Cookie enrobes a chocolate cream cookie with dulce de leche filling into rich dark chocolate and is decorated with the Silver Anniversary at Sea logo as well as the signature shimmering sprinkles. Also in concierge, the Celebration Cupcake tops a tasty red velvet sponge cake with vanilla frosting, shimmering sprinkles, and 25th chocolate décor.
Captain Minnie is also joining in on the anniversary festivities with the Vanilla Crisped Rice Treat offered at all Cove Café locations. This vanilla-flavored crisped rice treat puts Minnie at the helm with special décor for both her and the anniversary.
Last but certainly not least for food, signature desserts throughout the entire fleet will be getting a tasty enhancement. All of these spectacular sweets will be adding a special 25th chocolate piece to their already stunning presentation. At Palo, the classic Chocolate Soufflé with double chocolate sauce, vanilla crème anglaise, and vanilla bean gelato will also have a chocolate 25th anniversary piece for everyone to enjoy!
What makes a refreshing Coca-Cola event better? When it's decked out in Disney Cruise Line Silver Anniversary at Sea décor, that's what! At Preludes and beverage locations on board, guests will be able to purchase one of these special bottles as a tasty way to celebrate this momentous occasion.
For those over 21, there is an adult beverage guests won't want to miss at certain lounges across the fleet. The signature Jubilee by the Sea cocktail combines 818 Blanco Tequilla, Luxardo Marashino, and fresh lemon juice with a sparkly, silver dusting and a shimmering blue sugar rim. guests will even get to bring home a special bookmark featuring how to make this tasty cocktail at home.
Additionally, as guests are sipping on their favorite alcoholic or non-alcoholic cocktail, they may even see the exclusive 25th  Anniversary coaster and napkins showcased only during these celebratory sailings.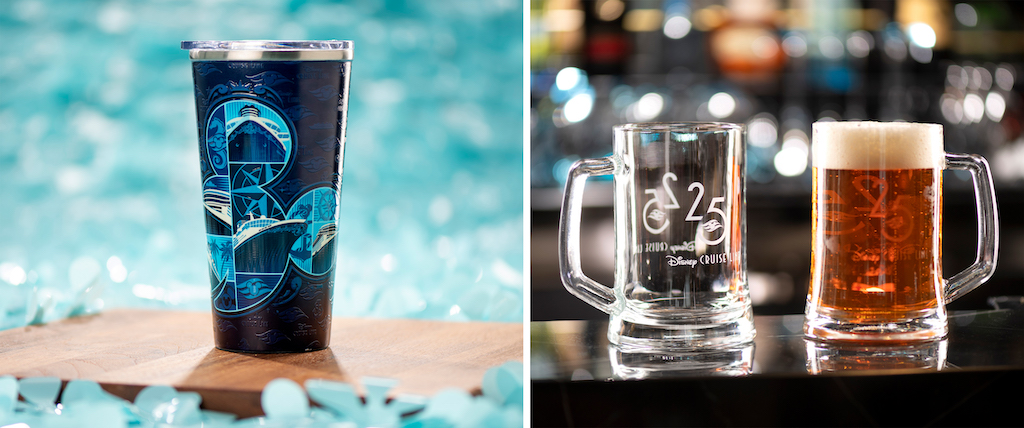 If guests are looking to take home some of the fun home with them, we've also got them covered. Available at coffee shops on board, guests will discover the Specialty Coffee Mug with a unique anniversary design featuring the Disney Cruise Line fleet and even Mickey Mouse himself. These mugs also come with specialty coffee – yum!
The beer drinkers out there can also bring home a special keepsake from their sailing – the 25th Anniversary Beer Mugsketched with the anniversary logo.
And finally, no Disney celebration is complete without a popcorn bucket! For these special adventures, guests will be able to purchase the Silver Anniversary at Sea Popcorn Bucket showcasing 25 years of Disney Ships, from the very first, the Disney Magic, all the way to the fleet's newest addition, the Disney Wish!
If guests are sailing with us this summer, we hope they enjoy this exciting anniversary with their family, friends, and loved ones – and that their trip is filled with the shimmer delights along the way!
(Note: All offerings are subject to change and availability.)
Disney Cruise Line has recently opened their new cruise terminal at Port Everglades in Fort Lauderdale, Florida. Here are five reasons why guests will love sailing with Disney Cruise Line from Fort Lauderdale. Second Year-Round Disney Cruise Homeport in Florida: Disney Cruise Line is expanding its fleet and opening its second year-round home port in … Read more
Read More
Crazy Imagination Travel Advisors are experts at the art of vacationing Disney and beyond. No two families are alike and no two vacations are alike. Each vacation is carefully planned and customized to our guest. From the Walt Disney World Resort in Florida to world-wide adventures in Australia, our Travel Advisors are ready to help guests plan their dream vacation. Go ahead. Put our service to the test!