Disney Eats: First Look at Brand-New Energy Bytes at Magic Kingdom Park
As we are gearing up for TRON Lightcycle / Run presented by Enterprise to blast off in Tomorrowland at Magic Kingdom Park in just a few short weeks, we've also got some exciting foodie news for everyone. Tomorrowland will soon be home to another new foodie spot – Energy Bytes!
This new kiosk will be serving up some tasty eats and sips for guests to grab, drawing inspiration from the futuristic environment around them. Whether they're looking for some breakfast bites, savory snacks, sweet treats, or refreshing beverages, this new spot will soon become a go-to pitstop as guests venture into the world of Tomorrowland.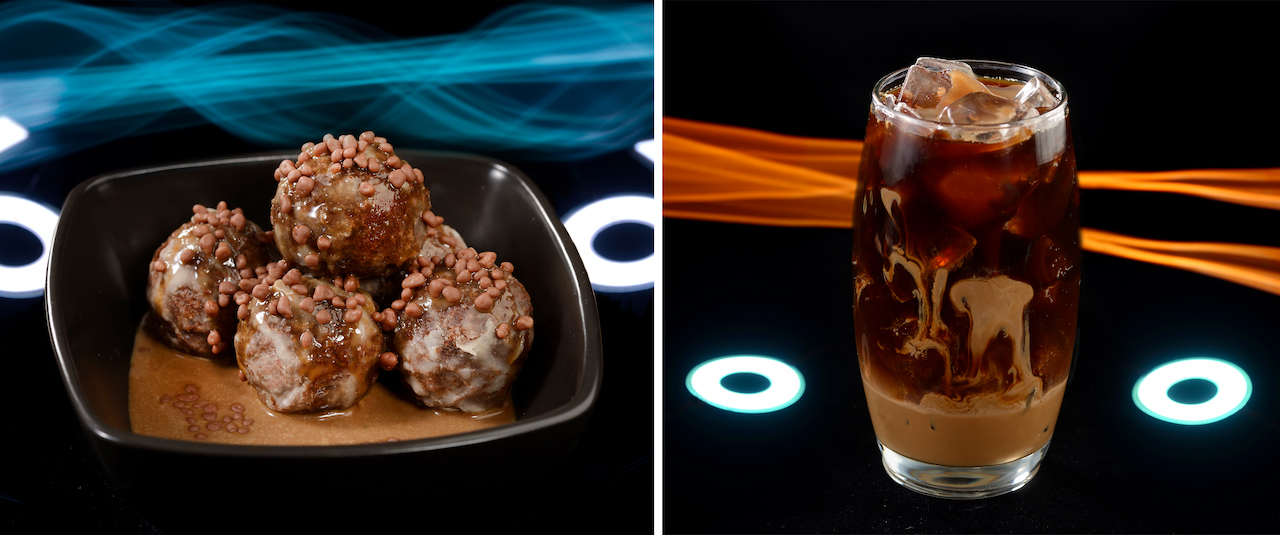 If guests are kicking off their morning in Magic Kingdom Park, Energy Bytes has some breakfast delights for them. For those wanting a sweet start to their day, the tasty Chocolate Cake Doughnut Holes topped with mocha sauce are a perfect option. With each "byte" guests will be begging for more! The coffee lovers out there will also have a new caffeinated beverage to try – Joffrey's Cold Brew Coffee topped with a yummy mocha sauce. This iced sip is the perfect combination of that classic coffee flavor with a touch of sweetness.
Now onto the savory options. If guests love buffalo chicken and dumplings, they're in luck because Energy Bytes is combining both of these classics into one delicious concoction – Digital Dumplings – Buffalo Chicken. This bite perfectly combines chicken dumplings, blue cheese powder, and cayenne pepper broth.
And these aren't the only dumplings coming to Tomorrowland. There is another dish soon-to-be served up. The Digital Dumplings – Beef & Broccoli is out of this world as it transforms this iconic dish into dumpling form with beef dumplings, broccoli pesto, and ginger-soy broth.
For those looking for a little sweet pick-me-up, Energy Bytes has them covered too. The Strawberry IceOform is the ultimate refreshing treat with the sweetness of the strawberry ice cream mochi, graham crackers, and even a little bit of cheesecake foam to finish it off. It not only looks beautiful but tastes great too!
Last, but certainly not least, we've got the Watermelon Refresher with yuzu and ginger. This frozen sip will take guests to another world with tasty flavors. Just take a peek at how good it looks! It'll be the perfect accompaniment for any of the other yummy items available at this location.
Well, there we have it – all the must-try items coming to the newest food and beverage location at Magic Kingdom Park. We can't wait to welcome everyone to Energy Bytes soon!
(Note: All offerings are subject to change and availability.)
The Hatbox Ghost has made an appearance at the Haunted Mansion in Magic Kingdom Park. This iconic ghost has decided to reveal himself to guests for the first time since his arrival was announced at Destination D23 earlier this year. For those who are not familiar with this reclusive resident, the Hatbox Ghost first appeared … Read more
Read More
Crazy Imagination Travel Advisors are experts at the art of vacationing Disney and beyond. No two families are alike and no two vacations are alike. Each vacation is carefully planned and customized to our guest. From the Walt Disney World Resort in Florida to world-wide adventures in Australia, our Travel Advisors are ready to help guests plan their dream vacation. Go ahead. Put our service to the test!