Blizzard Beach Water Park Reopening This Holiday Season
The much-awaited winter-themed water park is all set to open its gates for the new season of fun and frolic. Get ready to experience the magical world of Disney's Blizzard Beach Water Park, which is reopening on November 6, just in time for the festive holiday season.
There are many amazing things to look forward to when the park opens up again, including:
Grabbing the New Disney Water Park Seasonal Pass
Get your hands on the new Disney Water Park Seasonal Pass and enjoy unlimited visits to the park until May 24, 2024, for just $79 plus tax. The pass has no block-out dates, and no reservations are required. Free parking is also available for all guests visiting Blizzard Beach.
Indulging in New and Returning Food and Beverage
Don't miss out on the new food and beverage options available at the park. Try out the specialty churros at Arctic Expeditions, including S'mores Churros and Banana Split Churros. You can also relish the new Honey Sriracha Chicken Wings and Garlic Parmesan Chicken Wings at Warming Hut. All your favorite treats and drinks are also available at Lottawatta Lodge, Polar Pub, Frostbite Freddy's, and more.
Letting the Kids Splash Around on Tike's Peak
Kids can enjoy the heated water flowing through Tike's Peak while taking in the Frozen-themed hangout featuring Anna and Elsa in their igloo castle. There's also a wading pool where kids can splash around with Olaf and his Snowgie pals.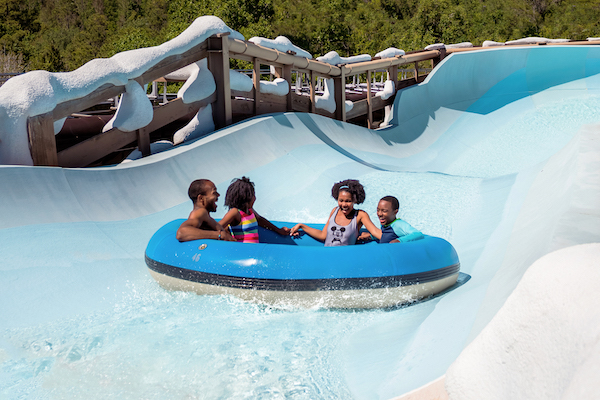 Twist and Turn Down Teamboat Springs
Take the family on an epic whitewater journey and float down a mountain on one of the world's longest raft adventures. Up to six riders can enjoy the thrill of the ride.
Ski-daddle to the Toboggan Racers
Compete with other guests in a race on mats down an eight-lane slalom-style, 250-foot-long "toboggan" waterslide race that features three exhilarating dips and hills.
Take a Chill-axing Ride on Cross Country Creek
Float on a scenic lazy river passing through mysterious caves and illuminated grottos while dipping toes into Mount Gushmore's refreshing (and heated) spring water.
Enjoy the Holidays with a Tropical Twist
Don't miss out on the limited-time treats adding to the festivities, including peppermint shakes and cookie decorating. And, of course, you can always hang out with Santa relaxing in his tropical best at his favorite vacation destination.
Experience the warmth of the Florida sun with your friends and family this winter season. Get your Disney Water Parks Seasonal Pass today and head to the top of Mount Gushmore for an unforgettable experience!
It's the most wonderful time of the year at Disney Springs! The halls are decked, the fire is roaring, and you won't want to miss out on all the festive fun available now through December 30. Here are six ways to enjoy the most merry way this holiday season. First up is the Disney Springs … Read more
Read More
Crazy Imagination Travel Advisors are experts at the art of vacationing Disney and beyond. No two families are alike and no two vacations are alike. Each vacation is carefully planned and customized to our guest. From the Walt Disney World Resort in Florida to world-wide adventures in Australia, our Travel Advisors are ready to help guests plan their dream vacation. Go ahead. Put our service to the test!