Adventures by Disney to Take Guests to Colombia, the Country that Inspired Disney Animation's "Encanto"
The beauty and storytelling of Colombia, the magnificent coastlines and historical sites in Eastern Canada's Maritime Provinces, plus an enhanced New Zealand itinerary packed with action and adventure welcome guests traveling with Adventures by Disney in 2024. 
Headlining the new destinations is Colombia, whose people and cultures sparked the imaginations of Disney storytellers as they created the Walt Disney Animation Studios' Academy Award-winning film "Encanto." Now, the travel experts at Disney have curated a one-of-a-kind adventure filled with new discoveries and experiences inspired by the film, and families can go "set-jetting" on their dream trip and see the movie come to life. 
Bookings for 2024 Land Adventures open to the public on Friday, May 12, with early booking available for the following travelers:
May 9, 2023: Previous Adventures by Disney Guests who have traveled on 3 or more Adventures
May 10, 2023: All Previous Adventures by Disney Guests
May 11, 2023: Disney Vacation Club Members, Disney Cruise Line Castaway Club Members and Golden Oak Members
May 12, 2023: General Public
Travelers interested in booking a 2024 Land Adventures can save $400 per person on select North America & Central America departures or $500 per person on select International Land Adventure Departures when they book before Aug. 5, 2023.
More information about Adventures by Disney, including the full line-up of itineraries in 2024, can be found at AdventuresbyDisney.com.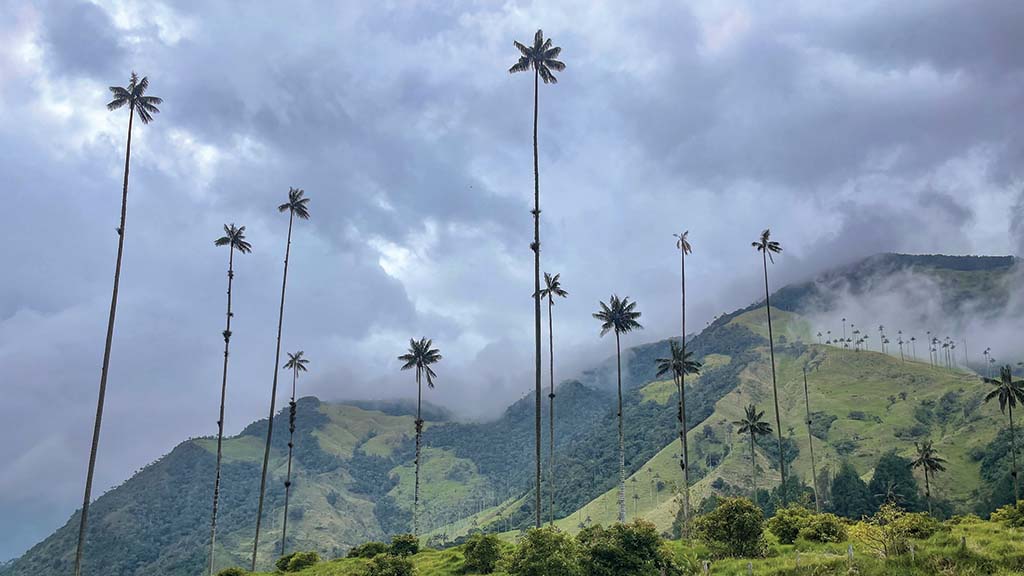 An All-New Adventure to Colombia: Bogota, the Coffee Region, Cocora Valley and Cartagena 
On this new adventure, guests will be immersed in the diverse cultures and landscapes, get a true taste of the local cuisine, and discover the unique characteristics and beauty of this destination. The brilliant colors found in neighborhoods and architecture, the lush, green landscapes with towering wax palm trees and a kaleidoscope of butterflies, family recipes, traditional customs and music will surround guests as they embrace the splendor of the second most biodiverse country in the world through access and experiences as only Disney can provide.  
Highlights of this eight-day, seven-night itinerary include: 
Visiting the capital city of Bogota, where guests will embark on privately guided tours of the Paloquemao Market and Historic City Center.

 

Enjoying Colombian coffee and visiting a coffee farm in the Coffee Region to see the process for growing and harvesting coffee beans. The nearby town of Salento is part of the inspiration for the setting of "Encanto," and the Cocora Valley features the tall, towering wax palms and butterflies as depicted in the film. 

 

Experiencing a hands-on arepa-making class, a traditional Latin American dish showcased in "Encanto" by Mirabel's mother Julieta.

 

Playing the country's national sport of tejo, as seen in the film.

 

Exploring the city of Cartagena, which inspired the film's colorful architecture and fabrics. Central to "Encanto" is the Afro-Caribbean influence, prominent in this city. 

 

Trekking the dry forest near Proyecto Titi, an organization dedicated to the preservation of the cotton-top tamarins, a project supported by the 

Disney Conservation

 Fund. It was Colombia's rich biodiversity that inspired the magical ability of the "Encanto" character Antonio, who has the power to communicate with animals.

 

Snorkeling among the Rosario Islands, a collection of 27 islands home to more than 1,300 species of marine animals, vibrantly colored fish and plants. 

 
Each travel party booked on the inaugural 2024 Adventures by Disney Colombia season will receive a signed lithograph of never-before-released artwork from Walt Disney Animation Studios. This piece of visual development artwork by "Encanto" Associate Production Designer Lorelay Bové set the early concept for the new door to Casa Madrigal that would be revealed at the end of the film – a symbol of the new miracle that Mirabel and her family create together through honesty and love. Bové's work includes such Walt Disney Animation Studios films as "The Princess and the Frog," "Tangled," "Zootopia," "Big Hero 6" and more. 
Adventures by Disney is opening new doors, creating even more ways for families to discover a different kind of magic: the magic of the world around them. 
For a complete itinerary and list of activities, visit Colombia Land Adventure.

A New Adventure to Canada's Maritimes of Nova Scotia and Prince Edward Island  
With Adventures by Disney, guests will enjoy Canada's Atlantic coast and Maritime Provinces of Nova Scotia and Prince Edward Island, with an itinerary packed with fun-filled activities. The adventure celebrates the outdoors with experiences to surround families with the region's picturesque rivers, beaches, ocean coasts and gulfs, and enchanting landscapes at every turn. The eight-day, seven-night adventure includes:  
Visiting an authentic maple syrup farm in Nova Scotia, learning about tree tapping and the process that brings syrup from tree to table, and sampling the locally tapped product along the way.

 

Discovering the Wood Island Lighthouse and being at the heart of the Island's maritime heritage. The Lighthouse has served the community for more than 150 years, and here Junior Adventurers will enjoy their own special kite-making and flying activity as the breeze comes off the sea. 

 

Exploring Avonlea Village, the fictitious community central to the Anne of Green Gables stories, and enjoying tea with a descendent of author Lucy Maud Montgomery's family.

 

Learning about the indigenous Mi'kmaq Peoples during a visit to the Millbrook Cultural Heritage Centre and gaining first-hand understanding of their Talking Stick sacred practice.

 

Enjoying outdoor family activities such as walking on the low-tide ocean floor at the Bay of Fundy, an onboard fisherman's feast, horseback riding, gazing at the stars during a bonfire, biking, canoeing and kayaking. 

 
For a complete itinerary and list of activities, visit Nova Scotia and Prince Edward Island Land Adventure. 
An Enhanced New Zealand Adventure 
A visit to the island country of New Zealand is a visual delight on the recently enhanced New Zealand adventure. The stunning scenery, blue waters, snow-capped mountains, volcanic sand beaches and tropical rainforests provide an incredible and diverse travel experience. The 12-day, 11-night itinerary will take guests to both vibrant cities and small towns, with sights and activities that are authentically New Zealand. Slight adjustments were made to the itinerary to offer an even more hassle-free travel experience that fully immerses families in this awe-inspiring adventure. Itinerary highlights include:  
Participating in the exciting America's Cup Experience in Auckland, the "City of Sails."

 

Sharing an authentic Hangi dinner with a local family to experience the indigenous Maori culture.

 

Marveling at thousands of glow worms illuminating an underground cave among limestone formations.

 

Touring the National Kiwi Hatchery, a facility renowned for its kiwi bird conservation program.

 

Gazing at the dramatic geysers which dot the landscape at the Te Puia Geothermal Park, also home to the largest active geyser in the Southern Hemisphere.

 

Traveling via the TranzAlpine Train upwards into the Southern Alps.

 
For a complete itinerary and list of activities, visit New Zealand Land Adventure.
Disney Cruise Line has recently opened their new cruise terminal at Port Everglades in Fort Lauderdale, Florida. Here are five reasons why guests will love sailing with Disney Cruise Line from Fort Lauderdale. Second Year-Round Disney Cruise Homeport in Florida: Disney Cruise Line is expanding its fleet and opening its second year-round home port in … Read more
Read More
Crazy Imagination Travel Advisors are experts at the art of vacationing Disney and beyond. No two families are alike and no two vacations are alike. Each vacation is carefully planned and customized to our guest. From the Walt Disney World Resort in Florida to world-wide adventures in Australia, our Travel Advisors are ready to help guests plan their dream vacation. Go ahead. Put our service to the test!